Despite his new his job as White House press secretary, many Americans may be unaware of who exactly Sean Spicer was before he hit the spotlight.
Let's start off by saying that the press secretary was once the White House Easter Bunny…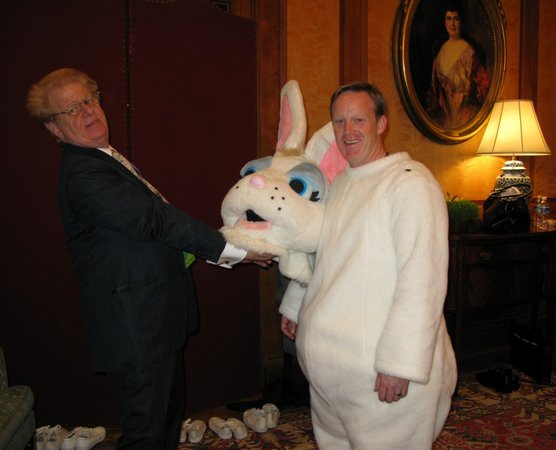 But what many may not realize, is that Spicer has had a very important job for nearly two decades.
Navy Commander Sean Spicer. @PressSec handles the press like a boss!!! I'd share a foxhole with him any day of the week and twice on Sunday! pic.twitter.com/UrzmSb1bUK

— Josey Wales (@josephwales911) January 30, 2017
@Spitfirehill Service above self… Our Presidential Press Secretary is also U.S. Navy Commander Sean Spicer. A Patriot indeed! pic.twitter.com/gC2jU336xJ

— Mike Himsworth (@MikeHimsworth) April 14, 2017
Fun fact: @seanspicer holds the rank of Commander in the Navy Reserves. The same rank 007/James Bonds holds. pic.twitter.com/QXAr52Tfj0

— G💰🔝 (@realGMONEYSWAG) April 14, 2017
White House Press Secretary Sean Spicer reported, in uniform, to the Pentagon Friday to fulfill his U.S. Navy Reserve duty, a White House official told Fox News.

Spicer reported to fulfill his duty at the Joint Chiefs of Staff offices, a White House official told Fox News. The well-known spokesman holds the rank of commander — which sits just under the higher rank of captain in the Navy.

Spicer, who joined the Navy Reserve nearly 20 years ago while maintaining his primary work as a Republican media operative and strategist, also possesses a master's degree in national security and strategic studies from the Naval War College.
Spicer serves the U.S. Navy as a public affairs officer — a job that may often include similar duties to his current White House position.
The Military Times reported:
In the past, Spicer has worked as a media planner in joint exercises in Guam, Germany and Sweden, along with overseeing media coverage of Navy operations in at McMurdo Station in Antarctica.
The Military Times also noted that Spicer was just one in a long list of military service members and veterans who had been selected to be a part of the Trump administration.
Wow, no wonder Trump chose this man.
Share if you AGREE.